Not t
hat there's anything wrong with that.
But his behaviour of late has been somewhat,
suspicious
.
First he announces that he's going off on some sort of
Man Weekend
with his
buddies
and has left his blog in the care of
Rachel from Heed The Geek
, nothing wrong with that....
Wyatt has displayed some, how can I say it,
Republican
tendencies on his blog, and the Democrats are campaigning for the 2006 midterms on what the
GOP is really like
.
Now I don't really care if a guy swings Republican, or Democrat, or even Independent, whatever floats your vote. But there is a lot of Republicanophobia out there, and in Wyatt's best interests, I sent a few android spies to check things out.
Personally, I don't know what to think of their findings. Here's the '
entertainment
' Wyatt and his friends are enjoying on their little '
Man Weekend
.'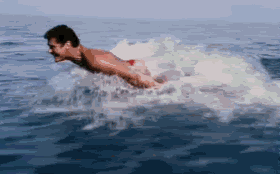 Looks pretty
Republican
to me.
If that's how he wants to live his life, I personally ain't gonna get a hate on over it, but those Democrats are making all kinds of noises about wiretapping people they suspect of
Republicanism
. And after that it's only a matter of time before the cops start raiding those Republican bars you hear about, harrassing the Republicans inside, barring Republicans from jobs, and after that, forced labour in Government Interior Decorating Camps.
So maybe it would be in Wyatt's best interest to start acting more butch Democrat, like Gerry Studds or Barney Frank. Because if the Democrats win a majority in November they'll probably make
Republicans
and
Republicanism
illegal.
And once that happens, what'll happen to Mrs. Earp and the little Earplings?
Won't someone

please

think of the children!