Greetings Earthlings.
TekTak here with another edition of

NEWS OF THE EARTH!
LONDON-

Investigators said that all 8 suspects in the recently pooch-screwed London/Glasgow car bomb plot are involved in Britain's National Health Service. That explains why th
ey wanted their victims to fill out acres of forms and then wait 6 months to get on the waiting list to be blown up.



WASHINGTON-

President Bush commuted the sentence of I. Lewis "Scooter" Libby over the weekend. This naturally drew the ire of Democrats who conveniently forgot the cadre of drug dealers, insider traders, bribers and terrorists pardoned by their boy Bill Clinton. I personally agree with the commutation.

It keeps Scooter out of prison, where he was sentenced to do less time than Jihadi homicide helper Lynne Stewart

(who has yet to do any actual prison time)

.

It denies Fitzgerald the orange-jumpsuit money shot he needs for the Democratic nomination for governor of Illinois.


It gives Scooter and his lawyers a chance to get the conviction itself quashed on appeal. Why will it be quashed? Because Scooter was convicted of not remembering idle gossip about something that Prosecutor Fitzgerald deemed wasn't a crime months, if not years before he was called to the grand jury.
SYDNEY, AUSTRALIA-

Someone claims that humans use too m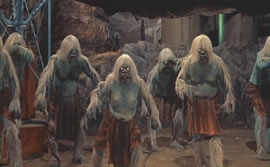 uch of the sun's energy. I guess the author thinks humans should start conserving the sun's energy by becoming completely subterranean, like Morlocks or Chud. Of course, then the author would find something else to complain about, like how they're eating too many Eloi or digging too many tunnels.



ASSALOUYEH, IRAN
-

Iran's Mahmoud Ahmadinejad and Venezuela's Hugo Chavez signed a new pact uniting their countries against the USA. The name for this new partnership will be the Axis of Idiots. They will also be co-authoring a new book entitled "

Running Oil Rich Countries into Poverty & Despair for Dummies

."



BOSTON-

Researchers claim to have developed a pill that eliminates bad memories. Just one dose and the people taking the drug completely forget that Rosie O'Donnell even exists.