Greetings puny Earthlings. It is I, Remulak MoxArgon, Usurper of the Court of a Thousand Galaxies, Ruler of the Known Universe,

yadda, yadda, yadda

.
Today is the beginnin
g of what I hope will be a new feature here with t
he MoxAr
gon Group. I call it The Liberal Mind, where we dip our toes into the writhing snakepit of modern liberal/leftist thought.
Today, we look at th
e concept of treason.
According to the Oxford English Dictionary

TREA
SON

is...
•

noun

the crime of

betraying one's country

, esp

ecially by attempting to kill or overthrow the sovereign or government.
Sounds pretty clear cut, doesn't it.
Now here's a recent quote about treason b
y a prominent liberal politician and 'activist':
"

This is treason. And we need to start treati

ng them as traitors.

" -Robert F. Kennedy Jr.
Now that's a pretty strong accusation.
Who was he talking about?
Let's look at the possible suspects.
Was it....?

For not finding a covert anti-terrorist operation it didn't feel the need to expose, and turning the CIA into an organization with more leaks than the Titanic?

Nope.

Could he have been talking about....


Lynne Stewart: A lawyer and "civil rights activist" knowingly passed messages from her client, a convicted terrorist, to his followers on the
outside. Actions that resulted in people getting killed in the name of radical Islam?
Was Robert Kennedy Jr. talking about her?
Nope.
Could it have been....
Newsweek Magazine

:

whose bogus story of "flushed Korans" story sparked worldwide riots leading to hundreds of deaths around the world and giving propaganda fuel to Islamic extremists which is still being used to this day?
Nope.
Was he talking about....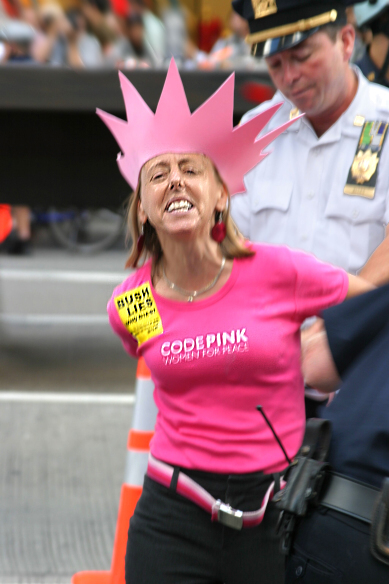 Medea Benjamin: Professional anti-war activist whose group Code Pink

gave $600,000

in aid

to

pimp turned

Al Qaida

terrorist kingpin

Abu Musab Al Zarqawi

in a direct violation of American law and common decency?
Nope.






Mr. Kennedy wasn't talking about any of them, or anyone like them.

In fact he was talking about people who refuse to worship
Al Gore
Yep.

According to Kennedy not wanting to give your complete loyalty, unquestioning obedience, and,

most importantly

, money to Al Gore,

who is not the leader of any sovereign nation

, is a betrayal of Mother Earth and must be treated as treason.

That kind of says something about where their heads are at, doesn't it?

So until next time, keep watching the skies, because we're watching you.